The Universal Hospitals Group, a Ghanaian healthcare company, has donated medical items to the Greater Accra Regional Hospital at a short ceremony in Accra.
The items will aid the fight against the spread of the coronavirus in the country.
The items include oxygen masks, cartons of sanitizers, hand groves, nitrile gloves and other medical consumables.
They are aimed at enabling front line staff of the hospital to safely go about delivering on their mandate diligently.
Presenting the items to the hospital, the CEO of Universal Hospitals Group, Frederick Amissah, said it was important for the public and companies in Ghana to join hands to fight the spread of the disease in the country.
He, therefore, appealed to industry prayers, corporate, bodies and individuals to support medical teams across the country, the Ghana Health Service and the Ministry of Health.
The Greater Accra Regional Hospital authority thanked the company for the gesture and promised to use the items efficiently to serve its purposes.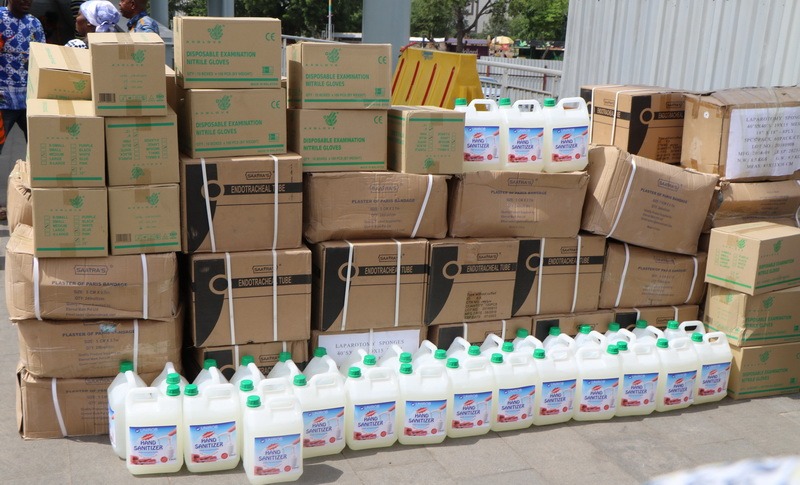 Universal Hospital Group is a leading provider of medical equipment management and service solutions in terms of the acquisition, installation, maintenance and user training in Ghana.
The company manages equipment at about 55 hospitals and dental clinics across the 16 regions of Ghana.
It currently manages over 400 pieces of physiotherapy equipment located in 18 physiotherapy centres and more than 350 pieces of dental equipment located in 22 dental clinics, some 3,000 pieces of equipment in both public and private hospitals and clinics across Ghana.
Established 1988, Universal Hospital Group is 100% indigenous company specialised in designing, building, equipping, training and maintaining medical facilities across Ghana and beyond.
The company offers a complete turn-key solution for healthcare facilities of any size.
It offers a comprehensive range of services from project planning and design, through to equipment installation and training.